Where to go in the spring – festivals. Chelsea Flower Show .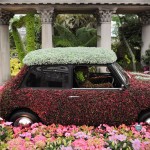 Chelsea Flower Show – one of the most prestigious flower show in the world.
Chelsea Flower Show – the most famous in the world garden exhibition, organized by her Royal Horticultural Society, founded March 7, 1804.
This show takes place in London at the Royal Hospital. The schedule of this year's show from 24 to 28 May. For tourists visiting allowed only in the last three days. This show is sure to arrive royal family, because the festival is held under the patronage of her. Here on display are the new varieties of flowers and garden plants, goes "fashion show" of florists and designers landscape. To do this, in the pavilions create layouts gardens.
For over 101 years the territory of the Royal Hospital in Chelsea area of ​​4.5 ha each year is converted into exhibition gardens. Site preparation for 33 days are about 800 gardeners.