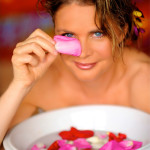 Skin Care after 40 years.
Skin Care after 40 years based on how to keep your skin and what is the general condition of the body. That is why experienced beauticians are advised to use in skin care after 40 years of comprehensive approach, encouraging her inside and out.
In this article, we will tell you how to properly care for your skin after 40 years, what are the main treatments should be carried out, and you will learn how to maintain the beauty and health of your body and skin in general.