Summer Makeup.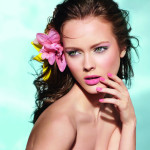 Summer Makeup.
"How to create a summer, a gentle make-up"?
Each season is a topical specific type of makeup. For the summer, it is of course, naturalness and tenderness.
One of the most important qualities required of cosmetics for the summer – it is protection from ultraviolet radiation. Sunlight falling on unprotected skin, make it more crudely, lead to the formation of unwanted wrinkles and age spots. From this skin is aging much faster. herefore, when choosing cosmetics give preference to the one which includes SPF factors.
The second, no less important factor in the summer of cosmetics – its water resistance.
Cleansing.
Any make-up, no matter summer or winter make-up, should be applied to cleansed face and neck. In the summer it is better to use a soft cleanser in the composition of which does not include alcohol. These can be special foams, mousses, gels.
Moisturize.
The second step – is moisturizing. Particular attention should be given the skin around the eyes, because she and since most tender and delicate.
Sometimes it is sufficient to use concealer in the summer, which will mask the dark circles under the eyes and hide small pimples and spots. Correction usually has a very delicate texture and the skin does not feel. Concealer should match your skin tone or may be a tone lighter. On the face of it would seem fresher.
Powder.
Very nice look rasspychatye powder pearlescent or effect of sunburn. Ray of sunshine falling on the glittering particles, make skin glow and look tanned and relaxed. Apply a broad-brush powder on the whole face and remove excess powder puff.
Eyebrows.
On the brow should pay special attention, as they give the image of perfection.
And of course, do not forget the neat shape of the eyebrows. Even if you regularly plucking her eyebrows in a beauty salon, before applying make-up is required to ensure that we never stick the extra hairs. If they are still there – carefully remove it with tweezers.
Eyes.
For summer makeup are ideal natural shade and delicate shades.
Eyeliner, like mascara is better to choose water-resistant.
Lips.
The final touch in creating a summer make-up – a little gloss on the lips natural shade. Happy looked good natural colors – peach, slightly pink, pearl. For evening make-up can be used more saturated colors. Lipstick, as well as face cream must contain a protective UV-filter to the sun lips become dry and chapped.
Of course – the less you use the shadows and lipsticks, the more gentle and natural turns your image.