Where to go in the spring – festivals. Brussels , Belgium.Floral carpet.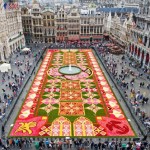 In the center of Brussels, in the square, a few days of August is spread a carpet of live begonias.
The tradition spread of color patterns in the central square of the capital belgiskoy founded in 1971, although the methods for creating this type of art known in Italy since the XVIII century. Since then, the Belgian master "woven" a lot of carpets around the world, including Hamburg, Paris, Amsterdam and London. However, according to experts, the most colorful and amazingly beautiful creations at all times created only in Brussels.
On the creation of a masterpiece work about a hundred artists. The dimensions of the carpet are impressive – 77h24 meters. Spread out on the pavement turf and decorate it with flowers in different shades. To create rugs 700,000 copies. Figure carpet never repeated. The flowers fade, the square runs a complex system of fountains. To look at the wonderful carpet, you need to come to the area of ​​Grand Place. And if you go up to the balcony of City Hall, you will see a more complete picture.
Floral carpet, there are only 3-5 days, but preparations for its creation takes about a year. Determined by the theme of the composition, developed the layout, worked out the details of the design. Directly on the implementation plan employs about one hundred experienced gardeners. Directly on the pavement stretches turf with grass, which defines the contours of the figure, and then placed between the begonias in different colors. All the masters takes about four hours.