Annual flower festival «Flora Fest» in Malaysia.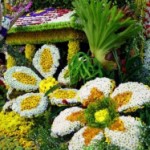 In July, the festival of Flora Fest in Malaysia you will find this exotic flower.
At this time, Kuala Lumpur is buried in flowers, they can be found everywhere: in stores, parks, on the street, in hotels and restaurants, clubs. The festival program is very interesting: an exhibition of paintings and photographs on a floral theme, master classes on making bouquets. The main action of the festival – a parade of colors and fireworks. Worth a visit orchid park in Kuala Lumpur, where grown more than 3,000 species of orchids. Nearby you'll find the park hibiscus – flower symbol of Malaysia.
The culmination of the festival – Floral Parade, followed by a platform decorated with flowers, can be seen within a few days of exposure to static.