News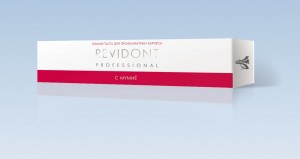 New Products: Series of products for teeth and gums
REVIDONT PROFESSIONAL:
– Toothpaste for caries prevention with mumijo
– Toothpaste for prevention and maintenance of parodontosis with Neovitin
– Balm for gums with peptides and Neovitin
Not so many people know that a healthy and beautiful smile depends on the condition of the human organism. Respiratory system, immune system, heart and vascular system are all responsible for the teeth and gums conditions and of course fresh breath. In REVIDONT PROFESSIONAL you can find all the necessary and effective ways for a better smile. REVIDONT PROFESSIONAL consists of non-abrasive, polishing ingredients, which gently care for the tooth enamel. One of the main ingredients is bioactive complexes, created by our partner «Vita», and natural peptides which work on different cells on DNA level.
REVIDONT PROFESSIONAL – healthy teeth, fresh breath and a beautiful smile!